The new decade has arrived, and so have the prophecies for the future trends in design. What does the world of design look like in 2022-2023, and what should we expect? We've researched the subject of UX/UI design trends to stay, to go, and to win us over.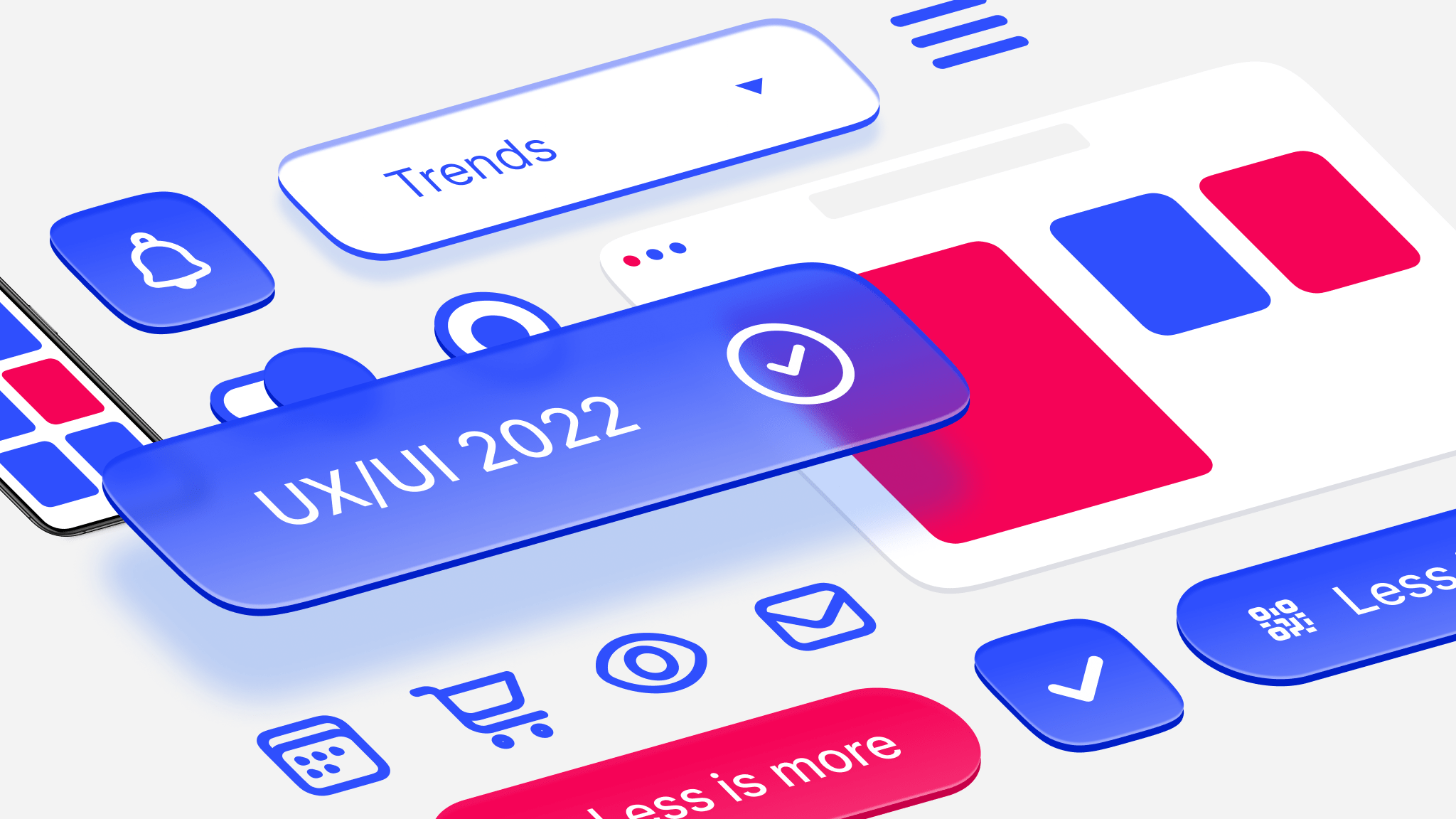 While the world may be swept away by the plethora of technological innovations and new trends, experience shows that the main design trends in 2022 are the most stable ones, and they are here to stay.
Something Old

In 2022 simplicity is the ultimate sophistication, and flat design is the utmost proof. This minimalistic design approach has a long history. Two-dimensional and proud, flat design has been growing increasingly popular since 2013, when Apple released iOS 7 with flat UI design elements. Aesthetically pleasing, it focuses on usability, rhymes with minimalism, and in no way means boring. Bold colours, contrasts, sans serifs, and efficient use of space enhance the design, allowing the user to navigate without any distractions.

Functional and straightforward, Scandinavian design has established itself in our spaces and flat design is not leaving our screens in 2022.

The other foundation of user engagement is simplicity. In 2022 users don't have time to waste on complicated and overloaded apps, and they are looking for a simple design. In fact, 25% of all the applications are used only once after download, and 90% of apps are no longer used within a month after they've been installed. Users want a quick solution to their problem and the abandoned apps have poor UX/UI design and complexity to blame.
Check this out: Bittiq app designed by Moqod
Design is crucial in B2C apps, there is research made by McKinsey on that. We have also covered the main differences between B2C and B2B applications, including the importance of design in one of our previous articles.
Simplicity is also inspired by the current trend of decluttering. We try to surround ourselves with only useful things that "spark joy," and technology is not an exception. Simplicity allows you to put the essential features upfront – just like in an application, where everything is designed to let the user accomplish what he wanted when he clicked on the app.
A quick example: Learned.io UI designed by Moqod
Something New

However, the world is not standing still, and it was only a matter of time before Augmented Reality (AR) made it into our lives. We no longer want to just see things; we want to live them. AR combines the physical and digital world, where the user can experience information through a device, Google glasses being the most popular at the moment. One of the most known examples of the use of AR through a phone camera is Pokémon Go.

UX/UI design for AR is definitely one of the 2020 trends, and it will expand our use of technology from screens to more immersive experiences. B2C solutions are experimenting more and more with AR — this allows them to sell the product to the client before the client has even touched the product.

For shopping businesses, it means that the user can get to know what you have to offer without stepping foot into your shop. Gucci allows you to try on the shoes without actually trying them, Ikea Place shows you how your place will look once you have assembled the furniture (with 98% accuracy!) and Sephora Virtual Artist will let you try on any makeup, without having to use testers in-store.

Games and entertainment applications will also benefit from AR — nothing like being immersed in a game that will keep you playing longer.

At Moqod, we like to keep pace with the times, so at the moment, we are bringing our AR standards to the level where we can provide our clients with the highest quality service. We are constantly learning new tools to create AR experiences!
Something Simple

Automation is going to make the design process more productive for everybody. UX/UI design can not be 100% automated, yet there are parts where we can save time on the design process and leave space for strategy and creativity. Today both users and developers are looking for simplicity and efficiency. Design automation gives monotonous tasks to computers, while humans can focus on what they do best — create. This computer-human collaboration is one of the main tendencies in design today, and for your business, it means leaving mechanical work to the machines, optimizing your workflow, and focusing on what matters most for your company.

Airports are replacing desks with automatic check-ins, Amazon had 30 000 fulfilment robots working in warehouses and Zara's parent company, Inditex, owns 14 automated factories staffed by robots.

In design automation process is made by using predefined DIY modules, websites, and mock-up tools that can be used by anyone to generate a mock-up, build a webpage, or an app interface. We have given a few examples of how automatized processes can be used without coding while developing an MVP.

Adobe Bridge is a great example of how to automate small design tasks: you can organize all of your creative projects in one place.

At some point, automation is used at every part of the UX/UI design, and while our machines are getting smarter, they will be given more and more tasks. At Moqod, we use automation a lot, and our engineers enhance it with their experience and manual work.
Conclusion
The UI design trends in 2022 have taken the best from the past, focusing on simplicity and accessibility. Today's designs are visually pleasant and optimized at the same time, and it is not likely to change in the near future. At Moqod, we work on creating a wholesome experience for our clients by combining proven trends with technological innovation, human talent, and creativity.