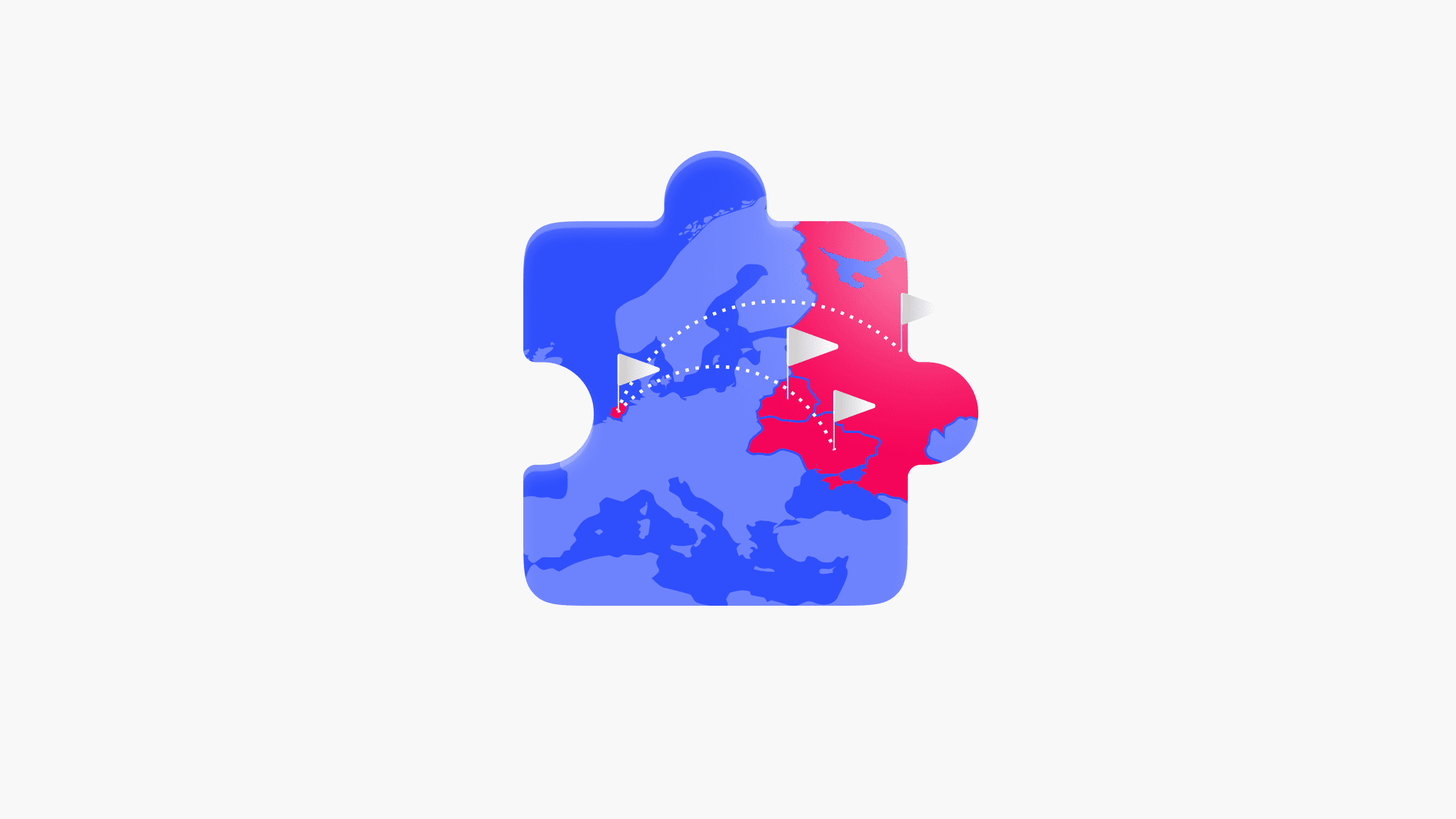 Many companies find that outsourcing software development is more beneficial than hiring developers as their in-house staff. If you are looking for the person with the right expertise, want to expand your team, or simply want to outsource software development without having to hire your own employees, outsourcing your work might be something for you. There are three types of IT outsourcing - also known as outstaffing - that you can consider: nearshore, offshore, and outsourcing. In the following blog, we'll explain the differences between these three terms and which outsourcing is best for your business.
…But if you are ready to make a decision in favour to one of companies, check our guide "How to choose the best software development company"
The difference between nearshore, offshore, and outsourcing

Nearshore software development, also known as nearshoring, is the outsourcing of activities to an organization either within or outside of your country. Nearshore is often outsourced to countries in Eastern Europe by using Eastern European developers with good skills in the IT space, in this article we'll explain why. In certain cases, nearshoring should be the perfect balance between the advantages of offshore and onshore. Choosing a nearshore company can ensure that you benefit from lower production and labor costs, it increases the available pool of talent and often reduces time and cultural differences.

In addition to nearshore software developers, offshore software developers can also be used. Offshore, the translation of the word 'far from the coast' speaks for itself. Offshoring is the outsourcing of activities far away from one's own country. One can think of other continents or oceans and seas far away. This form of outsourcing is often chosen because it saves costs, as production and wages are much cheaper. Offshoring is more economical than working with local or national companies. After all, the economic situation in certain countries allows them to charge lower hourly rates.

Outsourcing is the outsourcing of work to an external organization with the necessary expertise. Experience has shown that outsourcing is an effective model for companies that want to save on labor and overhead costs while improving their efficiency. There is a chance that a temporary need arises that requires the deployment of specialized (temporary) personnel. Some specialties are not always readily available and bringing in these specialties yourself is time-consuming and costly. Working with external staff during development fases is more efficient because they can be deployed quickly and temporarily.
Tips and ideas on how to manage distributed teams
Good team management is important within any company, especially whenever working together with teams from different countries since face to face meetings are harder to schedule. Due to the rise of the corona crisis, digital collaboration has developed strongly and is becoming more accepted. Because of this trend, more and more organizations realize that a physical location is not a requirement for software development and that digital collaboration is becoming accessible to everyone. Both internal and external communication, such as meetings and communicating information, can take place via Slack, Zoom, Google Meet, or Microsoft Teams.
In addition, it is good to ensure that there is transparent cooperation that is also visible. This can be divided into two different parts. For example, introductory meetings can be used to give an overview of the project and productivity tools to track team tasks and hours remotely. In this way, the client and the outsourcing company have a clear view of the development.
In addition, it is important to agree on who will contact you and the external company. Here it may be good to make a plan for the working methods. From this point, a start can be made on drawing up the rules for cooperation. Later in the process, reference can always be made to the agreements made, if one of the parties fails to honor them. Here you can say:
Ok, we have obviously implemented it, what else?
It is also important to involve your nearshoring team in a brainstorming session. If you are outsourcing your business in a cost-effective way, it is important to involve your nearshoring team in the process. It is good to build a solid working culture by involving the outsourced team. For example, involving the team in a brainstorming session gives them a more complete picture of the end goals and possible processes to help achieve them.
Finally, it is essential to have virtual team meetings where positive feedback is allowed. They don't have the pleasure of physically interacting with you and feeling that connection, due to working remotely. Sometimes people forget that there are real people on the other side of the screen. When you are leading a nearshoring team, it is important that there is regular open communication and that you make it a priority to keep the team engaged and make them feel like they are doing a good job.
The advantages and disadvantages

It is important for your company to consider carefully what kind of IT outsourcing is best. There are several advantages and disadvantages. Moqod specializes in nearshore software development and is headquartered in the Netherlands. A nearshore development team can offer you many advantages that will have a great impact on your projects and the future of your company.

Better communication

Most of their external developers are recruited from Eastern European countries such as Ukraine, Belarus, and Russia. If nearshore software development is chosen, the time difference is no more than 3 hours. Being in the same time zone makes it easier to maintain communication between internal and external teams.

Biased about Easter Europe developers?
Simple recruitment process

When recruiting new developers for a team, it can take a long time to find candidates. On average it takes about 2 working days to find someone for a position. Moqod makes this process easier and faster by doing the whole process for you. By using Moqod to build your team of developers, you not only save a lot of time, but you also get the best possible team.
Competitive prices

The average local salary of programmers, for example in England, can often be lower than in offshore software development. This difference can be a good reason to choose nearshore software development.
Team expansion

It can be a challenge to find the right nearshore software developers for your team. Moqod does not only search for the right match in the field of required skills but also looks if the developers fit well in your company culture. This high quality guarantee gives you security and the guarantee that Moqod can help you not only to grow your team but also to maintain or develop the quality level.
Pros are clear, what about the cons?
While offshoring of project development is ideal for certain tasks, Moqod's nearshore model can help you get the most value out of software projects that benefit from staying closer to home. Outsourcing software development to an offshore company may be a smart strategic move, but it is a good idea to weigh up the pros and cons.

Physical encounters

The remote location of the company makes it difficult to travel or visit the company and this can hinder the effectiveness of the work.
Time difference

Working from different time zones can cause bottlenecks. Maintaining constant communication can be a challenge. This is not the case when you choose nearshore software development.
Culture and language

In addition to the time difference, cultural differences and language barriers could also hinder working relationships. The work culture in an offshore country may be different.
High overhead

When a company chooses to work with outsourcing, the local programmers have to be hired on site. This can result in higher costs due to the quality of the people working on the project. Ultimately, more is paid for the expertise and although higher payout rates mean a higher quality solution, nearshore software development is a cheaper option.
Conclusion
Since IT professionals are hard to find in most countries with an advanced technology background, outsourcing software development is now a must. With workers around the world having the same skills as local professionals, the remote collaboration will soon become the global norm. The growing demand for new technologies will only accelerate this transition. But which type of outsourcing is right for your business?
If you have made the choice to outsource work, take some time to choose the right outsourcing option that best suits your business needs. There are different pros and cons between the different types of software development services, but it depends on what your business wants and what it wants to achieve. Moqod is ready to assist you in your outsourcing needs.