What to choose: hire programmers in-house or outsource software development? Every company that needs to expand its tech team sooner or later faces this choice. In this article, we will consider all pros and cons of different hiring models and determine which situation best suits employment challenges in the current crisis economy.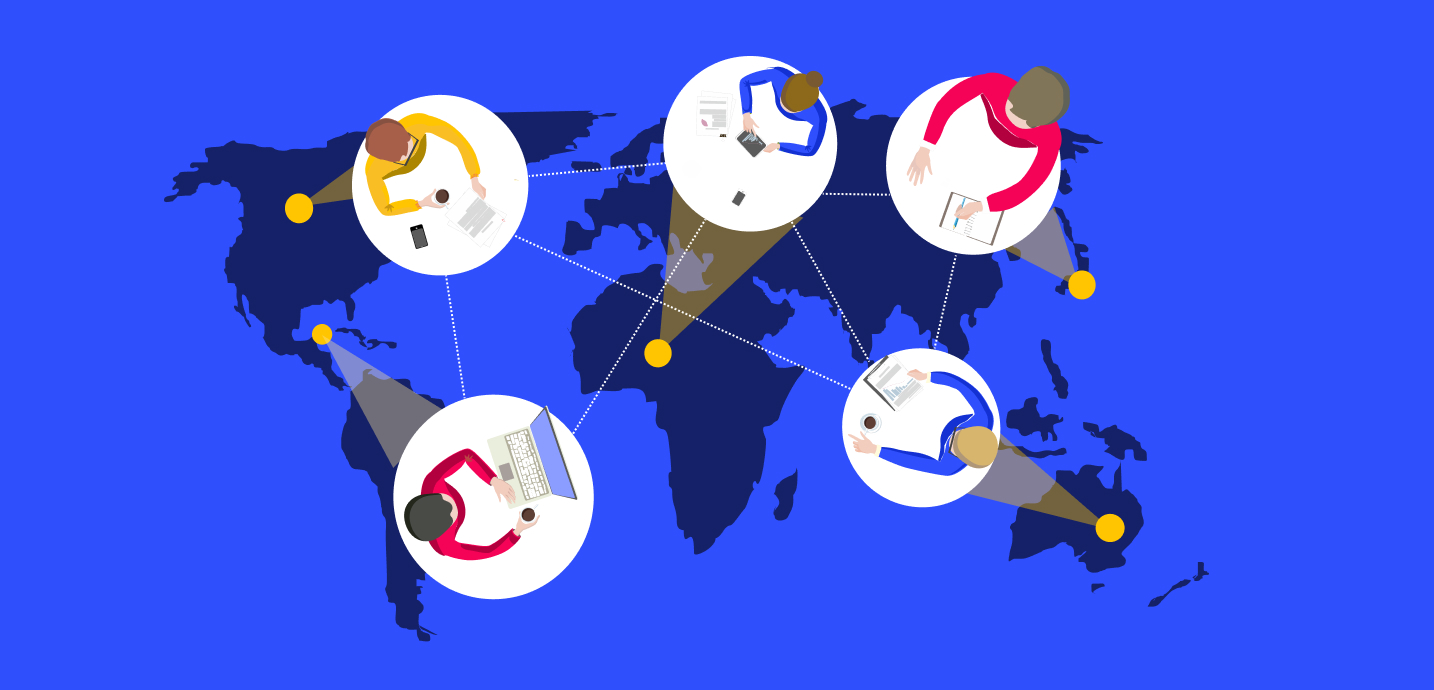 Recruiting and Retaining

Employment or hiring in-house is a traditional model. It has a lot of advantages and disadvantages for strategic planning.
Benefits of an in-house team:
Higher control over workflows. Once a manager has formed a team of developers, they can be personally involved in the software creation processes. They can monitor what their employees are doing at any time and ensure they are not distracted by unrelated projects or tasks.
Smooth communication among staff members. The employment of software developers requires shared working hours and close interaction inside the team. But there may be some miscommunications when a team works remotely.
Disadvantages of hiring a developer on staff:
Additional costs. By opting for an in-house team of specialists, be prepared to pay their salaries on an ongoing basis, even during downtime. European countries have strong labor legislation to protect workers, so it may be inefficient for businesses to hire staff for temporary project work. In addition, you will have to rent office space, pay utility bills, etc.
Staff training issues. You will have to organize training sessions and other educational activities to make an internal team work effectively. And this requires time and additional financial investment.
Long recruitment process. Hiring a software developer in Amsterdam can take up to several months. It's hard to connect with the real talents in tech. The problem is exacerbated if the recruiter or hiring manager does not have the appropriate technical skills. In this case, it is possible to turn to special recruiting agencies. And this cooperation causes additional expenses.
As you can see, recruiting is suitable for large enterprise companies interested in long-term cooperation with a specialist and have no hard financial constraints.
Outsourcing and Outstaffing — What Is the Difference?

These two notions are often confused when it comes to hiring external programmers for a project. And this is quite understandable. In both cases, the employees are not hired as staff but are selected by a provider of relevant services and work based on a contract between the vendor and the customer company.

But contrary to popular belief, these notions are not interchangeable. The difference between them lies in the format of cooperation. When outsourcing, you transfer tasks or functions to the contractor, which they perform on a contractual basis. For example, mobile app development is a job you can hire developers as "per project staff" or outsource the project to be completed by a software development company in the Netherlands or globally. And they are fully responsible for the final result.

When outstaffing, you do not ask the contractor to execute the project for you but you ask for their developers for a while, and they will become team members under your leadership. You can control employees, independently give them tasks and communicate directly. The advantage is that you are completely freed from the recruiting and onboarding intricacies while you have quick access to the developers' talents.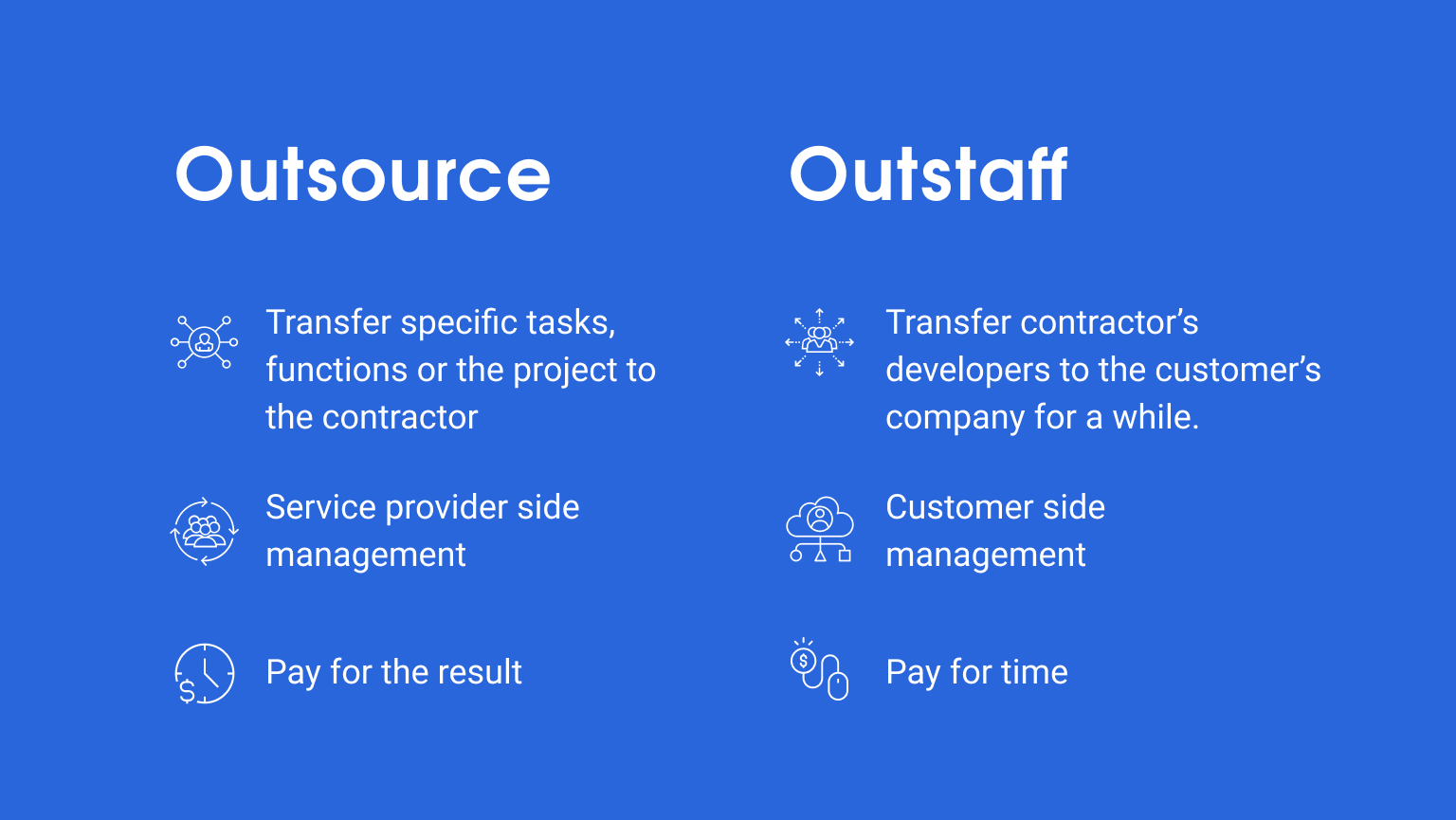 Types of outsourcing

There are several classifications of outsourcing types. They depend on the country where the hiring occurs and the provider's services.

If you want to hire a specialist or a whole team using the outsourcing model, you can cooperate not only with specialists from your country but also from near and far foreign countries. According to this, there are distinguished:

Onshoring — the hired specialists reside in the client company's region.

Nearshoring — hiring specialists from the neighboring country.

Offshoring — involvement of developers from far abroad.

Depending on the provider services, there are:

Information Technology Outsourcing (ITO) — hiring external resources to perform a specific functionality (e.g., data storage).

Business Process Outsourcing (BPO) — delegating HR, accounting, SMM tasks, etc., to outside specialists.

Knowledge Process Outsourcing (KPO) — outsourcing of experts with a wide range of knowledge and skills for market analysis, consulting services, performance management, etc.

Software R&D — the most widespread type of cooperation today, which is just to outsource software development work to third-party specialists.

Thanks to various options, managers can choose a suitable model and appreciate all the benefits of such cooperation.
What speaks in favor of outsourcing?

Speeding up the product's release to the market. The provider of outsourcing services will find a suitable specialist much faster than a recruiter would in the process of traditional hiring. Access to a large talent pool allows you to choose a developer with the right qualifications and expertise that significantly speed up development.

Access to the world's best IT talent. Outsourcing provides remote work, so it is possible to involve software developers globally.

Saving the budget. In the case of outsourcing, you will have to pay only for the time worked or the task performed (depending on contractual terms). The search for specialists abroad is another opportunity to save money. After all, the cost of similar services from one developer may differentiate several times from another developer in a different country.
Note: a C# developer from the US earns on average $116K per year, from Canada – $92K, from Belgium, Germany, and the UK – around $65K, and the annual salary of a C# programmer from Argentina is only $10K.
Ability for an around-the-clock organization. This advantage applies to offshoring. Different time zones are often used for good, e.g., to manage the company's continuous work.
Getting rid of legal procedures and paperwork. In the case of outsourcing a project, the provider takes care of the search for candidates, interviews, signing of contracts, and other necessary procedures. All that remains for the customer is to pay for the services and receive the finished project.
This recruitment model does have some challenging nuances but rather peculiarities of the work that you should adapt to. These may include:
Possible communication difficulties due to the cultural characteristics of foreign employees, the time difference, and the remote format of the work. This is true, especially for offshore outsourcing.
Risks associated with involving third-party companies and independent specialists. If you want to reduce these risks to zero, you should stipulate a guarantee of protecting your intellectual property rights when signing a contract. Additionally, choosing a trusted tech partner.
Outsourcing is preferred by companies interested in long-term collaboration and willing to outsource the entire project. After development is completed, you can count on support and maintenance for the application.
When is outstaffing the best solution?

Sometimes it is a priority for a company head to participate in the development directly and fully control the fulfillment of tasks and strategic goals. In this case, the outsourcing model is unsuitable despite its obvious advantages. Outstaffing comes to the rescue – reinforcing the internal team with external specialists.

Benefits of outstaffing:
Direct communication with all developers, while in the outsourcing model, you often have to communicate through a project manager.
Full control of the work progress — the client often organizes the developer's work by himself.
Saving time and resources on official registration of the employee. The outstaff provider will facilitate all of the details.
Guarantee the quality of your future software product.
Freelance developers

This article would be incomplete if we did not pay attention to one of the recruiting trends in 2022 — working with freelancers. According to a report by the Mckinsey Global Institute, 162 million people in the US and the EU are fully or partially freelancing — that's up to 30% of the entire working population. There are a lot of independent workers among the developers, too. You can hire them on platforms like Upwork, Toptal, and more.

Freelancers help companies solve the problem of uneven loading. The number of tasks in the software development area may not be balanced. If there are too many tasks, they cannot be implemented. If there are few of them, developers are not busy, but the company has to pay salary anyway. Therefore, hiring freelancers help optimize operating costs.

On the other hand, hiring freelance developers causes many risks, including the danger of running into unscrupulous or unskilled workers, as well as increased risks associated with data confidentiality.
Conclusion
IT outsourcing allows you to hire a developer in a short time, find a specialist who will satisfy your needs, and save your budget from unnecessary costs. Focus on proven providers who can guarantee a successful outsourcing experience. In "Moqod" we can offer you a format according to your need.  Contact us and experience all the benefits of working with a trusted tech partner.