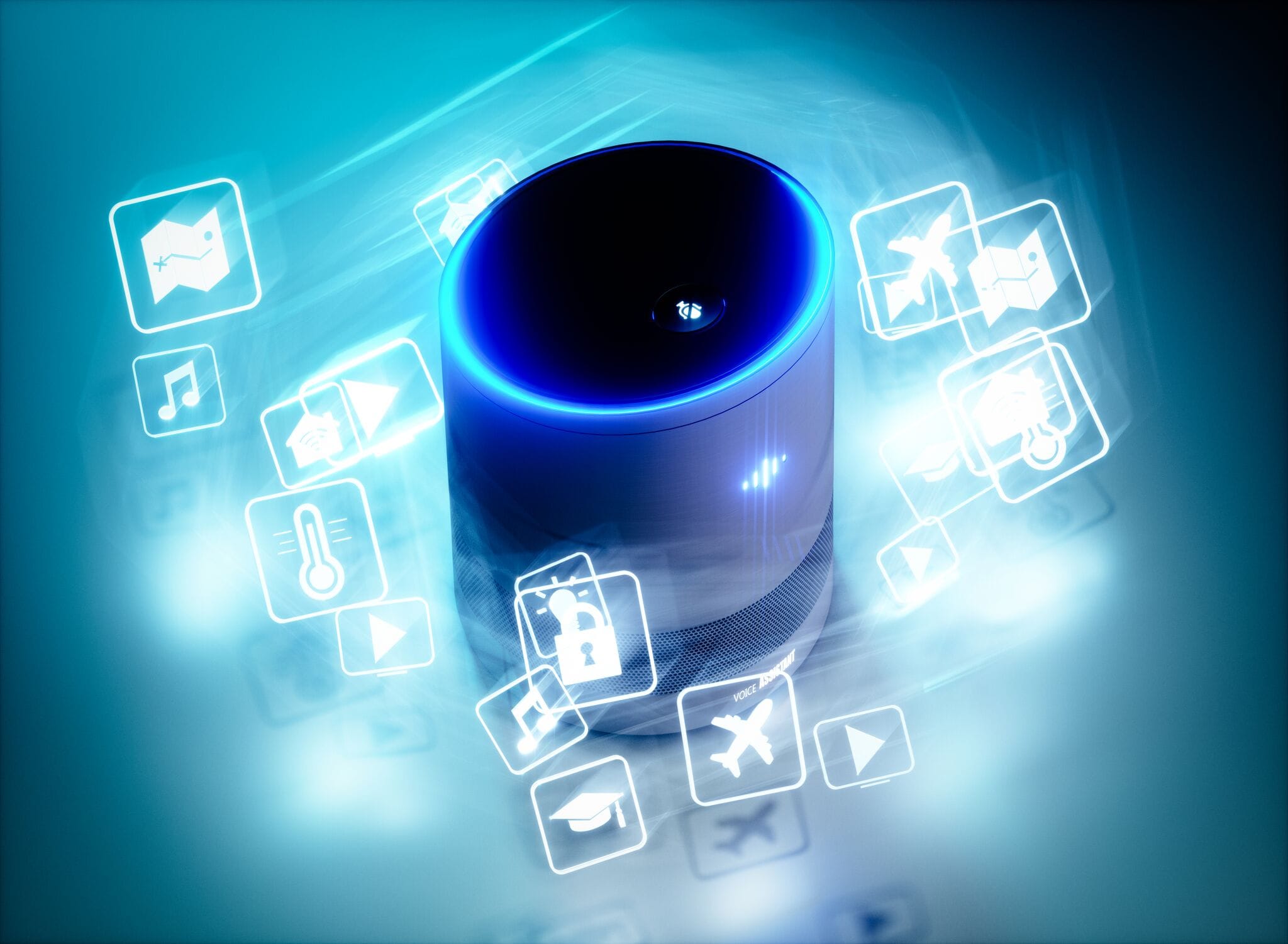 Google Assistant, Microsoft Cortana, Amazon Alexa, Samsung Bixby, Alibaba's Genie and Apple's Siri. You have probably used one of these voice assistants. These are the butlers of the future and the digital assistants who make the wishes of consumers come true. With that, it offers huge opportunities from a business point of view. How do you respond to this as a company?
Emotional bonding

"For manufacturers, voice-assistance is a great opportunity to get straight to the living room. With such a digital assistant, you can order a Starbucks frappuccino, a pizza from Domino's, or an Uber ride at home, "the FD writes. Capgemini states that "Voice shopping" is going to change the face of the retail trade and is more than just a new interface. Consumers who are familiar with the voice assistants now only spend three percent of their money through such a device. Within three years the consultancy firm expects that it will be eighteen percent.

Why does the adoption of voice in the US and UK happen twice as fast as that of the smartphone? In their natural habitat, consumers appear to be building an emotional bond with the voice assistant who recognizes dialects and emotions. These are functionalities that are difficult to compete with: it is therefore no wonder that many corporates delve into this new technology.
Automated customer contact

Voice assistants are not only relevant for retailers. With Moqod, we are in the development of a solution for a B2B company that would like to come into contact with (potential) customers in new ways. By creating an option for voice search within an application, you can automatically match supply to demand. Hereby, you save on personnel costs, since further communication can be automated with the help of artificial intelligence.

The same also applies to customer services. For example, more and more companies are letting their customers record their zip code, customer number or complaint. The input of this voice service is then linked to a robot, (which thanks to artificial intelligence) knows how to help the customer in the best way possible. In both cases, it is important to ensure that content is adapted to the (voice) search behavior of customers: so aim for simple keywords, choose a colloquial language and focus on long-tail search terms.
Best practices

We are happy to share the following best practices:
Do not offer too many choices in a menu. Consumers prefer to move through a number of menus than to be able to choose through eight different options in one menu;
Discover the possibilities of Actions on Google. This is a new platform from Google. In fact, it is similar to Alexa SDK – although it is just as easy to program on Actions on Google. Read more about Actions via this link.
Only a small proportion of users add skills to Alexa and even fewer (only three percent) still use one in the second week after installation. So think of a way in which your skill – application within Alexa – remains relevant for your target group;
Experiment with artificial intelligence applications that can enrich a voice assistant. Examples of inspiring cases can be found via this link and vary from making meetings easier to improving customer experiences through chat bots;
Be where your customers are. Voice assistants, such as Siri, make it possible to collect information in a new way.
Immerse yourself in all the possibilities that a voice assistant offers and thus be present on all portals where your (potential) customers are. The same applies to the possibilities that Amazon's Alexa offers.
Conclusion
Taking into account the search behavior of consumers is not the only tip we have for companies that want to get started with voice assistants.