CTO — Chief Technology Officer or Chief Technical Officer — is a management position associated with the software development part of the business. In the case of startups, the success of MVP depends 100% on CTO's decisions. So often, the CTO is one of the startup's co-founders or so-called technical founders. Let's consider why this role is crucial for startups and how you can find a specialist who can be trusted with your tech project.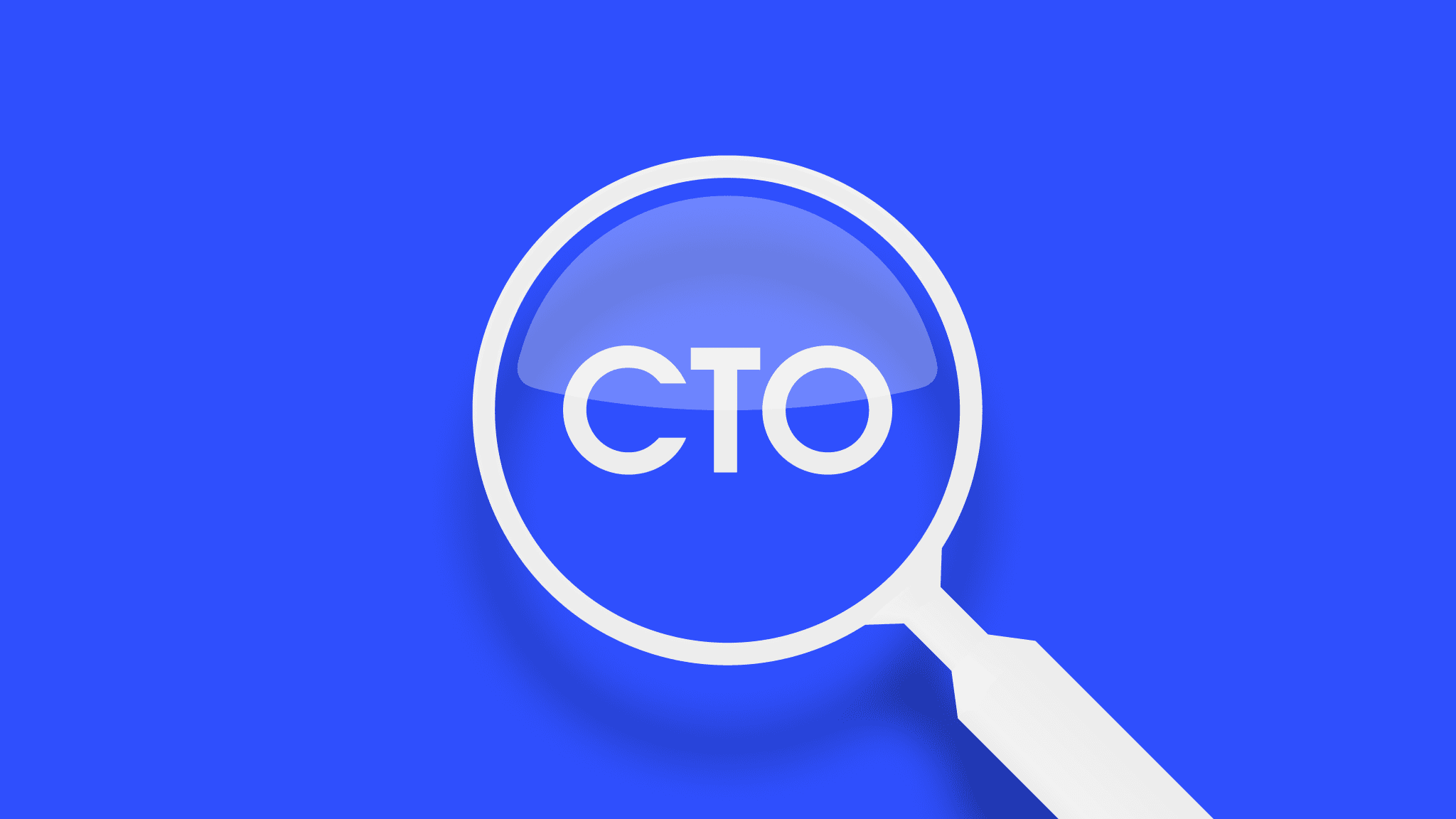 The role of CTO in a startup

The chief technology officer's responsibilities may differ depending on the project specifics, the scale, the industry, and the complexity level.

For example, at the MVP stage, you need the СTO to be essentially the team lead. He writes code, designs IT architecture, conducts code reviews, and performs other team leader tasks. When the team is small, optimizing development processes is not as relevant as a quick product launch.

In other cases, you need a CTO to handle development processes, infrastructure, and tech management. It's a kind of IT manager. Sometimes this position is also called VP of Engineering.

And once in a while, it may be necessary for the CTO to deal with presale and partly marketing. While this is not a rare situation, it's still more of an exception to the rule.

To summarize, the CTO is always responsible for vital technical issues.

The position is based on two aspects:
Technical leadership. The CTO is directly involved in implementing the idea, namely coding, designing, and setting up the infrastructure. In addition, they are involved in inspecting the code quality.
Team management. Although the CTO has a good knowledge of all the software development areas, this person dedicates more time to coordination issues. They are responsible for project development planning and supervising programmers.
Thus, the Head of IT accompanies the product at every stage: from the idea to the launching, managing both implementation and team coordination. At the same time, the role of the CTO and its job description in the startup may change during the project life cycle:
Generating a business idea — The CTO searches for promising ideas for the target market and selects the best ways to implement them.
Formation of the design concept — The CTO familiarizes the design team with the requirements for the product.
Prototyping — He reviews the concept and prototype in compliance with all visual and functional features.
UI/UX design — A manager decides on the architecture, assesses the scope of work, and identifies potential risks.
Coding — The CTO hires tech professionals and performs IT-related tasks or coordinates software developers.
QA testing — A manager participates in alpha testing and bug fixing within the team.
Product launch — He coordinates the deployment and scaling phases, ensures compliance with market requirements.
The CTO job description in a startup is not limited to these tasks. Additionally, after releasing a product, they are responsible for its improvement and implementing technology trends into the business to stay competitive. Technology strategy issues are handled in conjunction with the CEO. Although both positions are executive positions, they have differences.
CTO vs. CEO: key differences

The CEO is the highest rung on the corporate ladder because they make major decisions at the level of the entire business. He or she is a leader focused on the business space, while the CTO is focused on the technical side.

The differences between roles:

Involvement in the company strategy

The CEO generally works with short-term and long-term initiatives. The CTO focuses on the tech stack.

Area of expertise

The CEO has higher operational and financial skills. The CTO understands how technologies benefit the business and is involved in product development.

Education

The CTO is usually qualified as a software developer. Whereas a business management-related degree is required for the CEO.

Management

The CEO manages the marketing, advertising, and operations departments. The CTO is associated with cybersecurity, IT infrastructure, software development, tech support, etc.

If you are looking for a CTO, it means you need technological expertise for your business. Finding an experienced specialist is no easy cakewalk, but it is possible. The main question is to sacrifice your time and do it yourself or contract a third-party company for help.
Contact a professional recruiting agency

To reduce the time for searches, you can hire a recruiting company. They simplify and speed up the search for C-level specialists, too. Third-party recruiters can independently find candidates, conduct an initial interview, and recommend suitable specialists to the founder. But agency services require high costs: the commission for a successfully hired CTO includes several of his salaries (usually from two to six). Besides, unsuccessful searches will also have to be paid.

Advantages of contacting recruiters:
quick vacancy closure,
professional selection of qualified candidates,
saving the founder's time.
If the budget allows you to use professional recruiting agencies, it is recommended to choose a partner carefully. It's better if it specializes in your startup area.
How to find a CTO by yourself: helpful tips

Creating an MVP lasts 3-4 months on average, including coding and testing stages. This phase is followed by further product improvement. You can pass all the stages without qualified IT help only if you have vast technical knowledge and experience.

Involving a tech executive who already understands all technology trends and processes is significantly more advantageous. At the start, you have two approaches to finding a CTO without third-party help:
Networking

Attend events where techies gather and set up a few meetings. The main thing is to choose meetups similar to your industry and niche.

This way can be effective if you have an extensive circle of acquaintances in the desired area.

The advantage is a large degree of trust in a person. But there are also disadvantages:

High risk of biased assessment of the candidate's professional potential.

The limited social circle of the founder makes it difficult to find a tech partner with a narrow specialization.

Friends and acquaintances may expect special treatment, which creates difficulties in work communications. This often causes disruption of deadlines, plans, and so on.
Ask the online community for help

Check out online communication platforms for business and IT professionals like CoFoundersLab, or co-founding threads on Slack and Discord.

It is easy to get feedback from the online community using different resources like forums. Tell details about the project, share the first results, successes, and failures, and ask the audience for their opinions. Often communities have special sections, hashtags, or heading for job/employee searches.

In addition to looking for a potential CTO, you can crush-tested your startup and receive valuable advice from the experienced community.

The startup community is usually happy to observe, suggest, advise, and at some point, offer help or participation in the project.

This method of searching for a CTO is slow and often thorny; it requires the founder to have a lot of time and patience. Be ready to perceive criticism and harsh statements.
Use HR portals

You can use the traditional recruiting way and post a vacancy on the leading HR portals or use the existing database of specialists' resumes. But keep in mind it will take a lot of your time to filter resumes and interview candidates.

Advantages of this approach:
an extensive database of specialists, including specific niches;
large audience coverage when posting a vacancy;
the ability to search in different geographical regions.
In the case of HR portals, you will have to compete with large companies that are ready to offer specialist good conditions. It is considered that it is more difficult for startups to get enough responses unless you can offer conditions better than the market average.
When hiring a CTO among freelancers, there are higher risks of making a wrong choice. It is almost impossible to be sure that the person you meet online has the right experience and responsibility enough for your project.
Alternatively, you can choose an IT outsourcing partner as you can get reviews, case studies, and more information about a software development company. Besides, most of them are worried about their reputation anyway. Outsourcing is a good choice for startups since this is an opportunity to avoid the dual hassle of both finding a CTO and hiring a software development team.
How outsourcing can help startups that are looking for a CTO

In general, the outsourcing software development company performs the same tasks as a CTO. Moreover, you get access to other tech professionals and the IT talent pool. If outsourcing, you can hire a complete team headed by a technical leader.

Choose an outsourcing company that:
Has a successful portfolio of projects from your industry/niche.
Uses modern technologies and tools.
Chooses flexible methodologies for management like Agile.
Allocates a project manager or tech-lead to each team.
The outsourcer performs a range of tasks: from idea analysis to post-release support. The Tech-lead participates in every stage of the software development life cycle and is responsible for coordinating the performers.
Conclusion
If you're just at the beginning of your journey, outsourcing will prove to be an invaluable experience. A dedicated manager or technical lead will perform CTO tasks, and the team will build the product from the ground up. Whichever option you choose, remember that the CTO is your equal partner on which your MVP success 100% depends on.
Download the PDF
Looking for a CTO for a startup? Download our PDF Chief Technology Officer Job Description template.