Background

Mailsociety is a Dutch startup that aims to revolutionize the way people use email in their personal lives. The company recognized that traditional email clients often fail to provide a good overview and organization of emails, making it difficult for users to find what they are looking for. With over 4.3 billion users worldwide, the email client app market is a highly competitive space, with big players such as Google's Gmail App, Microsoft's Office App, and Apple's Mail App dominating the market.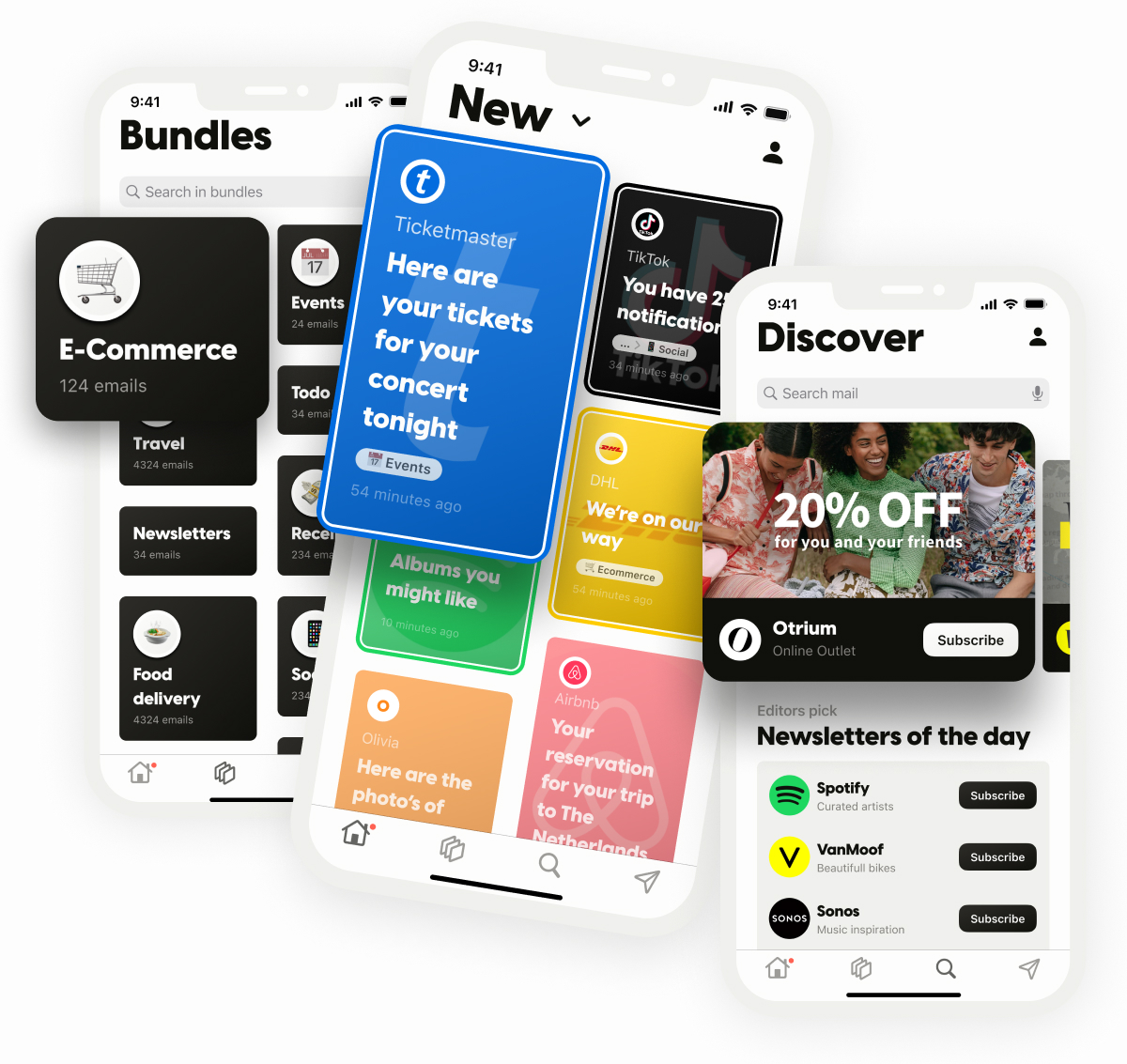 Objective

This project aimed to develop an email client app that would challenge the status quo and provide users with a visually-oriented interface for easy navigation and organization of emails. To boost smooth adoption, the app needed to be compatible with other email providers right from the start. Allowing users to simply log in with their current email addresses.
Methodology

The software development team working with Mailsociety followed an Agile development methodology to safeguard the flexibility and efficiency of the project. Mailsociety is a native iOS application using Apple's latest development- and design guidelines. The integration of Gmail on the backend is built with Firebase and uses Google Cloud Functions for handling push notifications.
Key Challenges

Providing disruptive value and an intuitive UX simultaneously was one of the main challenges that were faced by the team. Unlocking the perfect mixture between the two required a lot of testing and pivoting of the design by Mailsociety. The Moqod development team had the capacity to continuously adapt since the entire code was developed to anticipate. Together, we researched and tested different options to ensure that the final product would meet the needs of its target audience - Screenagers, who want to consume their online information in an efficient- and visually appealing way.
Results

The collaboration between Mailsociety and the software development team resulted in the successful launch of the email client app in the App Store. After its launch, we continued to work on updates on the back- and front-end of the app. Simultaneously, Mailsociety listened to a lot of user feedback which resulted in significant UX/UI changes, amplifying the simplicity to have an overview of your digital lifestyle and communication. The app is currently compatible with Gmail but will soon be integrated with various other email providers, making it accessible to a wider range of users.
Conclusion

Moqod's software development team, together with Mailsociety's management- and tech team, achieved their goal of developing an innovative email client app that challenges the status quo. The use of Agile development methods and tools played a central part in the successful rollout of the project. The team's focus on user experience and compatibility with different email providers resulted in a product that is both functional and user-friendly.
Future

Besides the implementation of other email providers, Mailsociety is planning to launch an Android version soon. This gives everyone with an email address the ability to use their app and finally get on top of their email. Furthermore, they are developing a dashboard where companies can customize how users see their branding in the app. This will be a stepping stone toward other custom B2C integrations upon the email ecosystem.

Get Mailsociety on the App Store now for the ultimate email experience