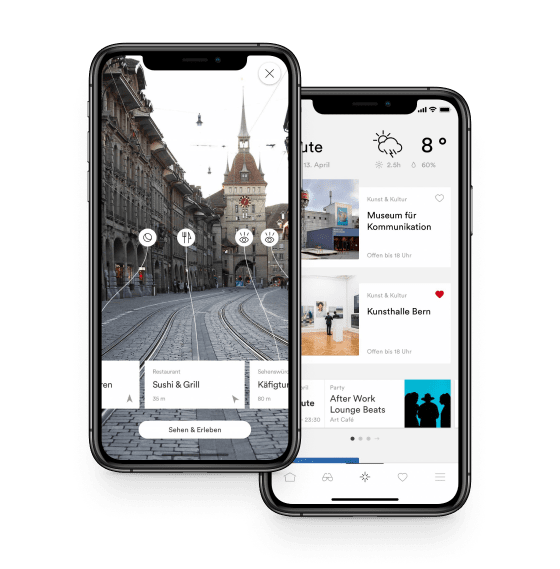 This project is one of the many where Moqod and Apps with love collaborated in the development of the application. Moqod supports Apps with love and their customers, and we have worked together successfully for more than a decade.
Project Goal:
create a personal virtual companion around the city of Bern. A detailed city map, ideas for restaurants, museums, and activities in and around Bern, as well as an overview of current events.
Result:
efficient intelligent application (including augmented reality) with an event calendar, museums, activities, restaurants, and other sorts of useful information for both locals and tourists.
More about the solution:
the Bern Welcome app also boasts a city map with integrated AR elements letting tourists discover the city in an interactive way.

A team of Moqod engineers complemented the development team of Apps with love in this project. We have 10+ years of experience in custom software development. Our skills and proficiency in cross-platform development have allowed us to help Bern become a successful solution both on iOS and Android.

From concept to release, our developing team will take care of your future solution. We create, maintain, and support SaaS, desktop applications, and web solutions. Our experience in mobile app development includes premium quality custom iOS and Android apps for startups, companies, communities, and government institutions.

We would love to see you on the page of our most successful clients. Do you have a business idea you would like to take further?