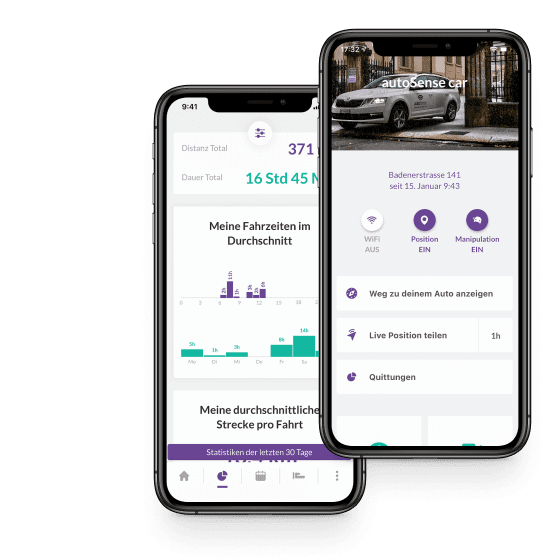 This project is one of the many where Moqod and Apps with love collaborated in the development of the application. Moqod supports Apps with love and their customers, and we have worked together successfully for more than a decade.
Goal:
Project

app for both personal and professional use, which allows to digitize the car information and transfer the valuable data into the application.
Result:
we developed a two-in-one app and hardware adaptor that digitizes your car. Instead of adding valuable information digitally, you can now transfer it directly into the autoSense app.
More about the solution:
the autoSense app grants access to an open Swiss ecosystem which completely changes the relationship between the driver and his vehicle.
Both personal and professional users love it — for example, it is very popular among companies that operate their own vehicle fleets.
Users can enjoy services such as WiFi hotspot, logbook, vehicle tracking, vehicle diagnostics, safety instructions, driving behavior analysis, and many others.
Let us drive you through the solution: check out the website.
Technical implementation:
the app was developed as a cross-platform solution based on Flutter. One of Moqod's engineers complemented the development team of Apps with love in this project. The application has a modern architecture and a highly technical implementation. The development team has utilized Moor database, BLoC design pattern and deep integration with Google Maps API.

Moqod has 10+ years of experience in custom software development. Our skills and proficiency in cross-platform development have allowed us to help autoSense become a successful solution both on iOS and Android.
We would love to see you on the page of our most successful clients.
Do you have a business idea you would like to take further?