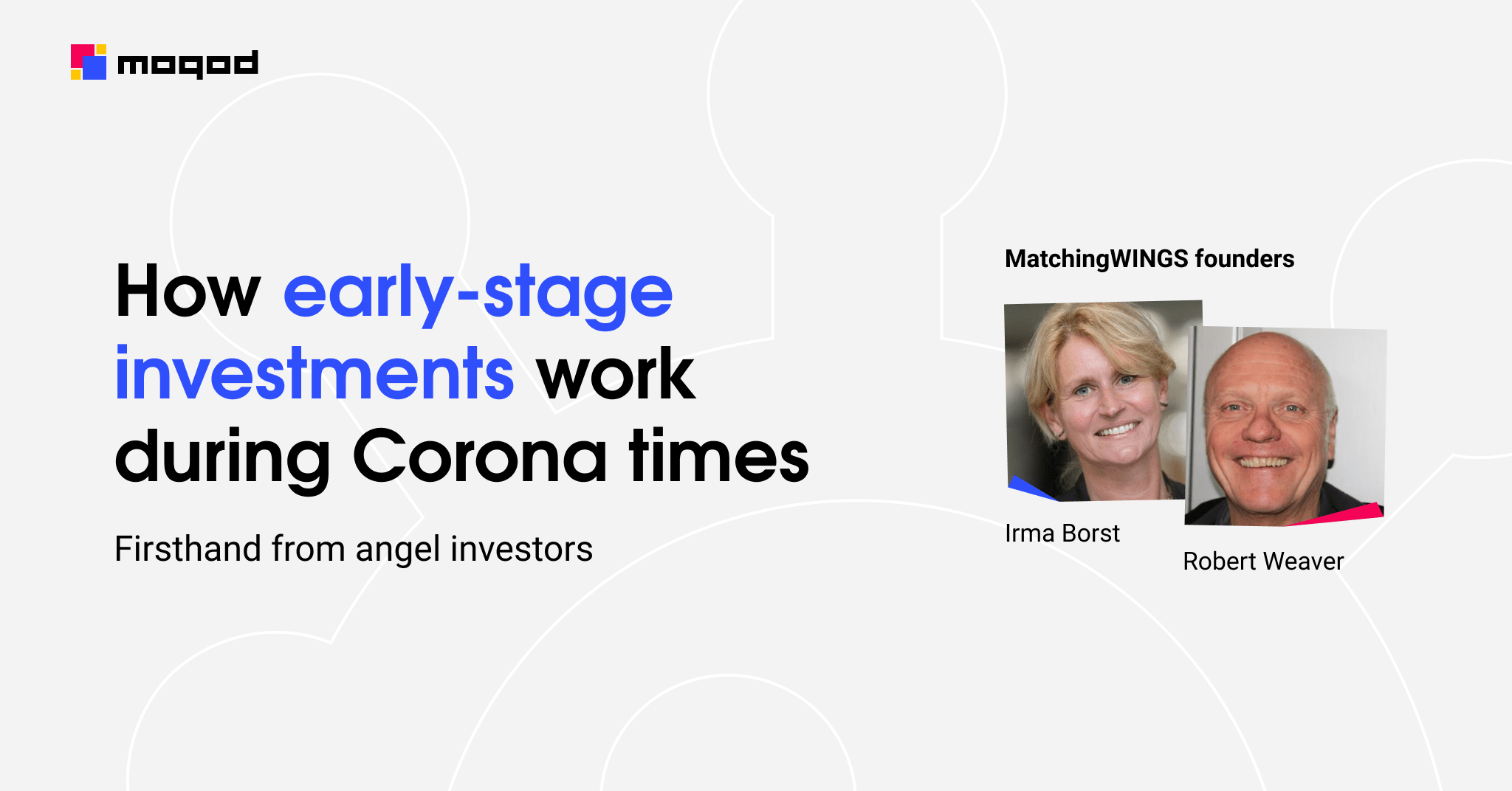 What if you have a brilliant idea and you need funding? Is it doom and gloom for startups, or is there a light at the end of the tunnel? Is it better to sit it out until things "calm down" or maybe there never be a better time for a kick-off? Some avoid these questions; some come up with all types of ideas for businesses reflecting the reality; some try to reinvent the wheel.
Working a lot with startups, we at Moqod decided to address our friends with more expertise in the domain. We had a chance to interview Irma Borst and Robert Weaver, founders of MatchingWINGS — an angel network supporting ventures and investors in the early stage investment phase. They are the ones who see an opportunity in every challenge, and they can answer all the questions you may have on investments in 2020 and beyond. We discussed the new normal in today's conditions for the early-stage startups, which has been hit the most by the crisis.
Irma's and Robert's roads crossed in the early 90s when they worked in telecommunications. Right before co-founding MatchingWINGS, they both already had substantial experience in the investment business. Irma had worked on crowdfunding research, and Robert had been an angel investor since the start of e-commerce.
The story of MatchingWINGS began when Robert reached out to Irma for more information on investing in innovative companies, asking whether there was data on what to invest in. There was not much data, but Irma suggested a scientific theory that could be applied to proceed with the investments.
Moqod: How did you then come up with MatchingWINGS? Was it a revelation, or was it a slowly-boiling process resulting in a successful angel network?
Irma: It was already during my Ph.D. that I realized there was a lot of scientific knowledge not being used by practitioners. Bringing those studies together could provide a framework for accessing the startup business and entrepreneurs and better predict their success chances. This was the first founding block of MatchingWINGS.
Another foundation for our company was also the idea that most of the businesses are former entrepreneurs. However, being a successful entrepreneur doesn't necessarily mean being a good investor. Entrepreneurship is about feeling and acting, while investment is about analysis. We thought it would be a good idea to bring our knowledge to the investors.
Often you can see how business angels jump into new startups thinking, "I want to start something completely different. " Our goal is to keep them away from rash decisions and help them make smarter investments. Especially with the early-stage investments, which are very risky, the business angels must believe the startup will succeed.
Moqod: Early-stage investments are indeed a very sophisticated subject. More and more startups are looking for investors these days. How do you at MatchingWINGS pick the ones you will invest in? Is there a particular "something" you are looking for?
Irma: The MatchingWINGS approach covers the specific needs of investors. On our side, we do the pre-screening of the startups for the investors. We check the pitch, the clarity, the purpose, the description, and surprisingly often, the companies don't match the criteria.
We also check the investment offer — it is not just about the amount. It is about how they are going to spend it. The expenses' analysis doesn't stop at what goes where: marketing, development, etc.
What matters is also what they are thriving to achieve with these investments. In the deal's conditions, we push them towards thinking in advance on what position they are trying to establish. At this stage, we also ask for their valuation. In many cases, the valuation is above and beyond the sky, while it's way closer to investors' ground. If the gap between the two is too big, there is no sense in going further. That is the general part of how we do it at MatchingWINGS.
Then we look for lead investors with experience and interest in specific domains. We have lead investors in SaaS business models, MedTech, HR Tech, Artificial Intelligence, FinTech, Automotive, Online platforms, etc.
We try to match them and get further on with the screening, to have the relevant people involved in screening the investment case.
Moqod: Regarding the lead investors, some people are in charge of specific startup domains such as FinTech or EduTech?
Irma: Yes, we work with the lead investors because we want to have sector specialists involved. This allows persons with expertise in other spheres to co-invest responsibly.
We make that happen. The person doesn't work on their own but in a group of people with relevant domain expertise.
Moqod: So, for you, would you value if a startup has a deep domain experience?
Irma: Of course! If they have the relevant expertise about the product, the market, the production, and its relevancy in the market, they have a broader network. They know the regulations or who to call if there are questions.
For example, on FinTech, this is very relevant that you know precisely what regulatory authority is dealing with it and who to contact in case of questions.
Moqod: You mentioned 'network' a few times. Would you consider the network as the asset of a startup?
Irma: Contact network is very relevant. You want to build something. You are attracting new customers, new investors, new partners. The more people you know, the better. This is also where the entrepreneur can show his ability to mobilize his resources. If he/she is good at it, that is what we like!
Then, there are individual preferences. Here we can take Robert and his approach as an example.
Robert: I really like to understand the trend, the market, learn about it, and deal with it. I'll give an example.
About six years ago, I read an article by Michael Pollan in the New Yorker about the trip treatment of dealing with death anxiety. The Johns Hopkins University in the US tested psilocybin among terminal cancer patients dealing with their death. Subsequently, they took it forward and discovered that psilocybin also worked well with addiction and trauma.
I have been following this specific segment for the last years. I am currently the lead investor in a retreat center, which is based in the Netherlands, with a certain number of US and UK investors behind it.
This is what I am focusing on at this moment. I like to evolve what we do with MatchingWINGS. There is a scientific substance for it. My specific domain is in that area.
Moqod: When a recruiter gets a CV, it takes him 6 seconds to decide whether he is going to read it further or not. A proposal starts with a pitch. What are your "6 seconds" to determine if the pitch is going to be worth it?
Irma: We do start with a pitch, but it is a document, not a presentation. I take quite some time to read that document. Then I send it back to the entrepreneur with my questions, and a lot of them fail that first test. They never get back to me. Gone immediately!
We check how complete, realistic, and unique the pitch is. During the last months we had so many pitches regarding last-mile delivery solutions, online platforms. What is innovation? We are no longer excited by that! The level of innovation and uniqueness has become more and more relevant.
Moqod: So, even if it is not very innovative, but you see the potential and the solution to a specific problem, you may proceed with it?
Irma: That can be the case if there is a match with a lead investor and interest of a potential co-investors. Recently we were very enthusiastic about a diagnostic tool determining dementia at an early stage. This is very relevant today.
Another example — turns out that from fungus, you can get new materials for clothing and accessories, shoes, bags. This week in the news, they said they could make coffins from fungus as well!
Moqod: It looks like between you two, Irma looks wider and finds exciting things there, while Robert looks into a specific item to find gold in it.
Robert: Absolutely, yeah. For me, it is always essential that I see there is something I can add to what is already happening. If there is no connection, it doesn't work. I ever need to get other people involved to advise on the potential and enjoy the thorough analysis regarding the venture's potential.
Irma: This is how we do it at MatchingWINGS. We ensure that all the information (strengths, weaknesses…) is available to the investors before they invest. Then it is up to them to go ahead or not.
I can be very enthusiastic, but others might not share my enthusiasm. It can also be the other way round. If the investor wants to proceed, he/she is more than welcome to.
Moqod: As of July, you said on your web-site that the growth of funding for startups was proportional to 2019. It looks like it is still the case for you!
When the company gives you a proposal, do you consider how they will deal with the current crisis if the situation aggravates or stays the same?
Irma: That data represents the number of early-stage investments in the Netherlands and is not limited to deals within our network. It is remarkable since it adds to the government's support during the crisis — they have already provided €230 million for the startups.
At the start of the lockdown in the Netherlands, investors and startups were carefully looking around at what was happening for some weeks. Investors first wanted to look at their portfolio and their financial situation, whether they could afford to proceed with the investments. After a few weeks, they were more open to investment cases. Past the summer holidays, things are moving more or less the same.
It should be noted that the total deal sizes and individual tickets sizes are smaller. Investments are made more on milestones. First small investments, and once a milestone is achieved (traction in the market, for example), the additional funding will be made available.
Moqod: At the beginning of the lockdown, we had so many incoming requests! Everybody was coming to us with ideas on how to benefit from the situation.
Irma: Very entrepreneurial person sees opportunities for new business even in a dramatic context. Some new companies did well, but there were a lot of strange ideas as well.
Moqod: With the crisis, do you think that the rise of companies going online is a good or bad thing?
Irma: There was quite some discussion on the impact of the COVID-19 crisis. How are people going to live, behave? For me, the longer it goes, the better people get accustomed to new habits. Now we work more from home, and we experience that it works out well.
Moqod: Of course, nobody has any predictions now. Let us talk about opportunities. What are your hopes regarding the future?
Irma: This has provided a lot of new opportunities. A lot of people change their views on environmental and social objectives.
Robert: I can give an example of what Irma is talking about.
I am currently involved in a real estate project, in a nature reserve, 4000m2, with a possibility to add another 4000m2. Our first step is to make 600m2 of the COVID-proof environment to have physical meetings managed professionally. The Hotel School from The Hague is giving us support for this project in terms of infrastructure. It is a very enthusiastic, young, and dynamic group of people helping us.
Moqod: Basically, your approach is to continue investing and building businesses adapted to today's situation?
Robert: What is happening, though, here is the hotel crisis. 5-star hotels have only 15% utilization at the moment. The Hotel School students don't have a lot of opportunities to practice. We are getting a lot of support from The Hague Amsterdam. Working on this project is making use of the current situation. The development project we are putting is the innovation looking at the COVID-19 issues, which are there.
For us, we are making use of the happening trends, and we are on board with them.
Irma: The initiatives will continue with the crisis. There may be a situation, like in April, where people thought: "What happens if I don't have a job anymore?". That will be the case. This year, next year, a lot of people will be dismissed, and they will have to do something new.
TechLeap announced that it would be a new army of entrepreneurs. It may be an optimistic long-term vision. However, one should not forget that the entrepreneurs may face a difficult financial situation in the short term.
Moqod: Companies and people become smarter. Even in the middle of the crisis, they were reconsidering whether what they had been doing before was the right thing.
Robert: People need to deal with fear and manage that. There is an excellent book that just came out by Shannon Huffman Polson, called "The Grit Factor: Courage, Resilience, and Leadership in the Most Male-Dominated Organization in the World."
She was a helicopter pilot, and then she moved into business. She talks on how to deal with fear, and many people are in the fear situation now. What am I going to do if I lose my job? You need to onboard it and act on it.
Moqod: Would you have some last advice for the new entrepreneurs coming to the market?
Robert: Having a good idea, having stamina, a network. You need to work hard; you need to have a plan and execute that plan. Something that brings you forward to your dream.
Whether it is going to come or not is out of your control. If you do all these things, the chances that you will get there are larger than if you are not doing that.
I also believe in the "black swan situation." You have to create as many options as you can with upside potential and limit your downside waste. At the end of the day, if the black swan comes, it is out of your control. The COVID-19 is a black swan.
Irma: On the one hand, we would like the entrepreneurs to be convinced about their ideas and to have a certain flexibility and willingness to adjust. Work hard. It is not a simple lifestyle where you sit in a pleasant environment and sip coffee.
Moqod: We just have one last question. What was the weirdest or the funniest idea somebody ever brought to you?
Irma: The crows! There was the idea of training crows into collecting cigarette butts. It could be sold to the municipalities, for example (laughs). We have a Party for the Animals in the Netherlands. They would probably be against it.
Moqod: Thank you very much for taking the time to answer our questions. This has been very interesting and a lot to process.
Conclusion
The input and advice from MatchingWINGS have been incredibly useful.
A lot to digest, a lot to process, a lot to apply, and a lot of inspiration on how to deal with problems in the shaky world we live in. One of the main things we will keep with us is this positive, energetic attitude, despite the problem's size.
Leave the fear aside and go get it until you get to the place where the problem meets your perfect solution.